GIANCARLO IMPIGLIA
Born in Rome, Italy in 1940, Giancarlo studied at the Liceo Artistico and the Accademia di Belle Arti di Roma and completed his studies at the Italian Center of Cinematography. His signature style is identifiable around the world, and his work poses as a powerful commentary on social, political, and economic contemporary culture. He stands on the shoulders of the Italian Futurists, recalls the flourishes of Art Nouveau, celebrates the curving geometry of Art Deco and integrates the concept of Cubism. In addition to being featured in various prominent museums, publications, and private collections, Impiglia's work has been exhibited in countless galleries around the world, and his large murals can be seen in the lobby of 99 John Street in Lower Manhattan as well as gracing the walls of all of Cunard's cruise liners, where they echo the Roaring '20s and '30s and the golden age of travel. In his new paintings, he has departed from his former style with a series of canvases that comment on the horrors of war. In addition to these new paintings, the gallery also features a collection of paintings and assemblages from Impiglia's early career.
Click on any image to enlarge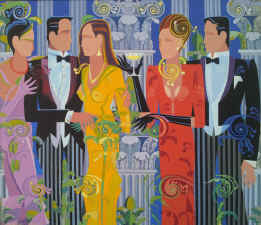 Please call 631-726-2523 or e-mail info@ARDTgallery.com for prices and availability
Click on the artist name to see a full collection of their work currently available.
David Byrd Ceravolo Sanseviero Charles Ford Robin Morris Kim Simmonds Robert Roesch Candice CMC Joe Doyle D Flowers Documents
Harald M Olson Christophe Recent Acquisitions Home