CERAVOLO
Scroll down to see the newly discovered images of the Palladium Theatre paintings from 1977
Ceravolo's Large scale paintings have received international acclaim for more three decades. His art, came to popular attention when he was commissioned to create six large scale portraits for the lobby of The Palladium Theatre in New York City. In addition to these, his paintings are in many influential corporate and private collections, including: ELTON JOHN, ROD STEWART, HUGH M. HEFNER, DAVID BRENNER, MONIQUE VAN VOOREN, WARNER BROS., RCA RECORDS AND SCHENLEY INDUSTRIES to name a few.

Ceravolo's paintings combine abstract and realistic work on the same large scale canvas (Some as large as 8 feet) making them truly unique works of art. Sometimes the abstract work is in the form of Ceravolo's trademark "illusion" which appears to be "floating" in front of the canvas, other times the abstract work is a spontaneous application of paint which adds color and texture and is in perfect compliment to the gray realistic image.
Urban Pop Paintings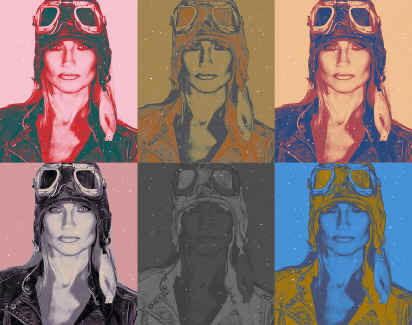 Celebrity Portrait commissions
To visit the website for Ceravolo's oil Portraits please visit the website www.ceravoloportraits.com
Details of Roy Lichtenstein Painting with Aluminum panels
Details of Chuck Close Portrait on canvas with Aluminum and wood panels
The Palladium Theatre Paintings
In 1977 Ceravolo was commissioned to create Large Rock and Roll portraits to hang in the lobby of the Palladium Concert Hall in New York City. These paintings were to thank the acts of tremendous statue that played the Palladium Theatre.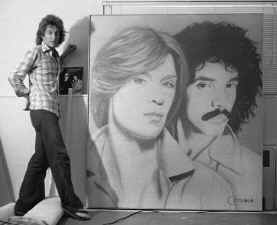 Sculpture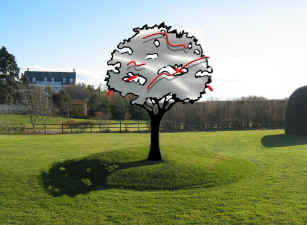 Ceravolo's Aluminum Sculptures can be commissioned for indoor or outdoor placement.
Please call 631-726-2523 or e-mail info@ARDTgallery.com for prices and availability
other artists represented:
David Byrd Charles Ford Sanseviero Kim Simmonds Robin Morris Joe Doyle Robert Roesch Candice CMC Giancarlo Impiglia
Harald M Olson Recent Acquisitions D Flowers Christophe Documents Home
631-726-2523