Robin Morris
Paintings and Graphics
For Robin Morris, her paintings are her observations of life, stylized, playful, and yet challenging to the viewer. Her emotions are hidden beneath layers of color and pattern.
"It is contradiction that I enjoy most about my work; reality and imagination juxtaposed with a touch of humor."
Her highly sophisticated images have appeared on everything from Radio City Music Hall covers to commissions from Coca-Cola and Bloomingdales. She has achieved widespread recognition and captivated the public's interest with her art. This fascination with Robin Morris's creations can be noted with sold out shows worldwide and the inclusion of her internationally acclaimed work in the permanent collection of several museums. She continues to evolve, constantly examining new frontiers for her artwork. We invite you to view her paintings and to contact us with any questions that you may have.
"Signs of the Times"
"Great Minds"
Details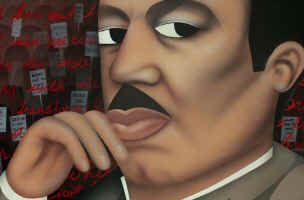 Please call 631-726-2523 or e-mail ARDT3@aol.com for prices and availability
other artists represented:
David Byrd Ceravolo Sanseviero Kim Simmonds Charles Ford Joe Doyle Robert Roesch Candice CMC Giancarlo Impiglia
Harald M Olson Christophe Recent Acquisitions D Flowers Documents Home